​Valkyrie Sailing Charters -Captain paul Reviews
We have received many 5 star reviews from various platforms. Click on any photo to enlarge.
---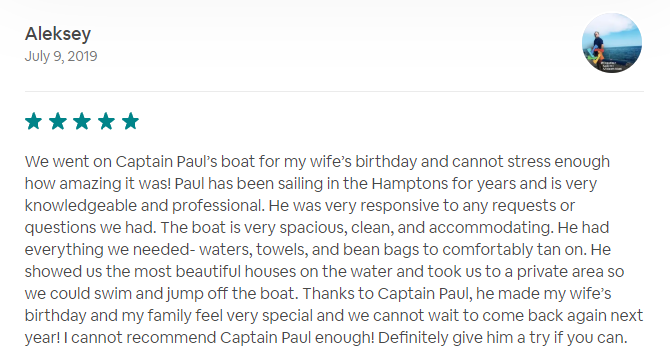 We had the best time with Paul! Our original plans were foiled due to Dorian but he helped us work through alternatives to rearrange for our bachelorette. He provided coolers/ice immediately and helped lug our own goodies on board. The boat had more than enough room for our large group of girls to lay and watch amazing sunset, as well as dance to our own playlists. Highly highly recommend!
Cristy





Beautiful boat! Great day!
Doryn





Our sail in Sag Harbor with Captain Paul was the highlight of our bachelorette party. He met us at 1 long wharf and helped us into the dingy which brought us to the boat. He was attentive and assisted in helping each girl, bag, cooler get onto the boat safely. He let us use his boat's speaker system and showed me how to use it so I can easily DJ using Spotify. The boat came equipped with bean bag chairs, beach towels, and noodles for us to use. The size of the boat was substantial and for our group of 6 girls felt quite large. He let us go swimming, took a few group photos of us, and gave us the option to be dropped off at Sunset Beach so that we could have more time on the boat and make the most of the location. He also offered to bring back any large items we did not want to carry with us to Sunset Beach. We met up with him the following morning to pick up the coolers. Overall, couldn't of been more perfect and I'd highly recommend him to anyone.
Courtney





Paul was such a great time. He was very nice and informative! The boat was clean and very cool. He is very laid back and would love to go book again.
Stephanie





Perfect experience!!!! We could not have asked for a better experience... Captain Paul was cool, easygoing and friendly. We were running a little bit late and he was super easy about it - he even let us stay on the boat a bit longer to make up for the time which was completely unnecessary! The boat itself was immaculate - multiple clean bathrooms! He has tons of beanbags for lounging and he will play any music you want! He even had iphone chargers to use!!! It was the a great day sailing around sag harbor - he stopped for a while to let us jump off and swim which was so fun! We were a group of 10 and we ALL haven't stopped raving about our day at sea. We cannot wait to do it again :)
Chelsey





We had such an amazing time on the Valkyrie with Paul!!! I can't say enough wonderful things about the boat, the whole date and Paul. It was the highlight of our weekend we are already trying to figure out more dates to do it again. Thank you for an unforgettable experience!
Kira





We did a sunset cruise with Paul on Saturday June 25th and it far exceeded our expectations! Paul was friendly, and accommodating, and the boat was spacious and perfect for our group of 9. We brought wine and snacks and enjoyed lounging on the bean bags while we watched the sunset! This was my first time using boat bound and certainly won't be my last. especially if I have the opportunity to rent with Paul again!
Alanna





We had an exceptional experience sailing around Sag Harbor and Shelter Island with Paul. His boat is beautiful and as a captain, he did a phenomenal job of showing us around. We took a few opportunities to anchor and go swimming - plus a side trip for lunch at Sunset Beach. Overall a wonderful trip and highly recommended. Thanks Paul!
Jason





Paul and his lovely wife (?) are chill and mellow hosts. the boat is wonderful, especially under sail, and paul has total knowledge of peconic bay and surroundings. my family loved it, and it was worth every penny.
Robert





What a perfect trip!! Paul is the coolest captain ever, very laid back and made us feel at home. We had the perfect sunset sail with stops along the way to swim. The hospitality was off the charts and our entire group had a blast! The ship itself is beautiful, and quite large. Very stable on the water and Paul is happy to either sail or motor depending on what the charter has in mind. Can't think of a possible flaw, except that we could have spent a week on board. Thank you!!!!!
Andrew





A great day in the Great Peconic Bay and Sag Harbor. Perfect boat and Captain for entertaining and enjoying the waters of the Hamptons!
Carl





Paul and Meredith were consummate hosts, with an efficient operation. A short and delightful water taxi ride to the beautiful 60' catamaran left us with nothing more to do than watch the anchor come up and take off for a wonderful tour of Gardner's Bay and around shelter Island, with beautiful views and a perfect wind for sailing. We brought food and drink for the trip, easily set out and served in the main cabin. Comfy beanbag chairs on deck and blankets to warm us up as the sun set completed a perfect afternoon and evening. Just fabulous.
D





Captain Paul is a great host- we could not have had a more relaxing morning charter. Great way to spend some time in the hamptons in the shoulder season and I'm sure an amazing time with a big group in the summer as well.
Tammy





What an AWESOME experience! My wife and I took a sunset cruise aboard the Valkyrie with Captain Paul. We had originally scheduled for the night prior but some weather rolled through and Paul was very accommodating. We met where his instructions had…+ More
Whitney





We had a wonderful time on a private sunset sail over labor day weekend, he was fast to respond (even though we booked our experience less than 24 hours beforehand). We loved it so much, we brought a larger crew with us the very next day. Would…+ More
James





What an AHHHmazing holiday treat!!! Enjoyed an exhilarating afternoon on the water with Captain Paul whose passion for sailing is clearly evident and contagious. This is a very unique way to experience Sag (plus the immediate surrounding areas) from a complete different perspective. Captain Paul is an expert and a local so his breadth of knowledge is unparalleled. The vessel, itself, is beautiful and impeccably maintained. With him at the helm, you can sit back, relax and simply...enjoy!!! HIGHLY recommended!
Alisha P.





We had a great outing with Captain Paul! He's an expert sailor and a wonderful host. It was a very memorable experience for our family.
Michelle





We went on Captain Paul's boat for my wife's birthday and cannot stress enough how amazing it was! Paul has been sailing in the Hamptons for years and is very knowledgeable and professional. He was very responsive to any requests or questions we had. The boat is very spacious, clean, and accommodating. He had everything we needed- waters, towels, and bean bags to comfortably tan on. He showed us the most beautiful houses on the water and took us to a private area so we could swim and jump off the boat. Thanks to Captain Paul, he made my wife's birthday and my family feel very special and we cannot wait to come back again next year! I cannot recommend Captain Paul enough! Definitely give him a try if you can.
Aleksey





Outstanding excursion worth every penny! Captain Paul is professional and we have a wonderful time! His boat is incredible and would be wonderful for a special milestone occasion! ⭐️⭐️⭐️⭐️⭐️
Heidi





We truly loved our time on the boat. My husband and I had a wonderful time on the boat. Captain Paul was incredibly nice and accommodating. We would book this experience again in a heartbeat!
Jennifer





My partner and I really enjoyed sailing with Captain Paul. We went on a beautiful May afternoon before Memorial Day, to avoid the crowds and we had the boat to ourselves. Paul provided plenty of bean bag chairs to lounge on and enjoy the view. We…+ More
Dina





This was a great experience - highly recommend it! You will not be disappointed - thank you captain Paul!
Kevin





Great sail with great captain. We had a wonderful time & highly recommend.
Susan





Captain Paul was amazing. This is a once in a lifetime experience.
Andrew